Biography
Christine is best described as a '360' built environment professional; she has practised as a Building Surveyor, Project Manager, Construction Manager, and Facilities Manager, and has been employed by a variety of high profile clients, contractors, and consultants, within both the public and private sectors, across several decades.
Christine has worked with both SMEs, and international organisations on multi million pound projects; she has managed a variety of extensive refurbishment projects, with substantive logistical challenges, and clients in occupation concurrent.
Christine has a broad perspective of the challenges, and the rewards, accrued from a lengthy career within the built environment.
Christine was a core member of Latham WG 8, contributing to the 1996 Construction Industry Board Report Tomorrow's Team: women and men in construction
Christine was Vice Chair to Latham WG 12, contributing to the 1997 Construction Industry Board Report Partnering in the Team
– These publications were sub-sets to the Construction Industry Board 1994 Latham Report Constructing the Team
Christine was a core member of the CIOB WG contributing to the newly revised, 2022, sixth, edition of the CIOB Code of Practice for Project Management
Appointments
Past Chair – CIOB Women in Building
Past Chair – CIOB London Region
Past Chair – CIOB Dubai Region
Past Chair – CIOB Nominations Committee
Past Senior Trustee CIOB
Past Chair – CIOB Non-Chartered Grade WG
Chair – CIOB Professional Standards Committee
Communication & Outreach Team – nima
Chair – BIM4FM UKBIM Alliance
Member – BIM Academic Forum – nima
Liveryman – Worshipful Company of Constructors
Freeman – City of London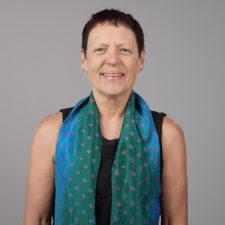 Qualifications and memberships
Teaching
Research interests
Industry
Qualifications
Memberships
Christine has been working in academia effective 2011 and has delivered a wide range of modules integral to Building Surveying, Construction Management, Project Management, and Facilities Management programmes of study; she has been a programme leader for HNC/D, UG and PG cohorts.
In addition to her delivery of best practice in the management of the construction process, Christine has additionally provided modules specific to the fundamentals of law, procurement, construction technology, and management principles.
Christine has a Masters in Education, undertaking research particular to employability, addressing the additional skillsets required by students pursuing a career within the built environment, and the provision of role models to further enhance the application of learning.
Christine has further shared her research findings within a mix of HEA events and educational conferences.
Throughout her career Christine has been an active volunteer, working with a mix of professional bodies and organisations, providing presentations, workshops, and facilitating conferences, for the benefit of both student cohorts and wider industry.
Christine networks widely and uses her professional profile to raise standards, providing posts, blogs, and commentary, particular to best practice; a current focus is the dissemination of best practice as part of the process of Building Information Modelling, to further enable the compliant and efficient use of built assets.
Christine is an active STEM Ambassador, and is a designated industry role model.