Biography
Cathy joined UCEM in 2018 from the University of the West of England, Bristol. As Dean, she provides academic leadership for postgraduate and undergraduate surveying provision ensuring compliance with academic quality, professional, statutory and regulatory requirements. She also provides academic leadership in the development of our online provision promoting continuous programme and module enhancement.
As a chartered quantity surveyor she has a strong pedagogic interest and extensive experience in the teaching of measurement, cost modelling, workbased learning and collaborative practice. She has extensive experience of external examining and validation of surveying courses within the sector.
Appointments
2015     Review member of QAA Construction, Surveying and Property Benchmark
2017     HEA Reviewer for National Teaching Fellow Applications
2018 & 2019     TEF Subject Panel Member
2020     Academic Board Member: London School of Business and Finance
2021      QAA External Expert
2023     TEF Panel Member:
2023     Deputy Chair for QAA Construction, Surveying and Property Benchmark Review
Previous external examining posts include:
2016–2020     External Examiner, BSc (Hons) Quantity Surveying (University of Derby)
2017–2021      External Examiner, BSc (Hons) University of Wales,Trinity St David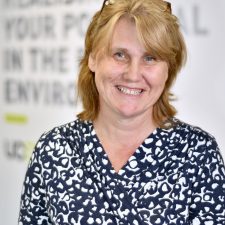 Qualifications and memberships
Teaching
Research interests
Memberships
Cathy has previously taught a range of subjects at BSc level including:
Quantity Surveying Practice & Procedures
Measurement
Workbased Research and Experiential Learning Modules
Cost management
Collaborative practice
Cathy's research interests are both subject and pedagogic focussed in areas related to the field of quantity surveying.
Publications
Books
Ashworth, Hogg and Higgs. 'Willis's Practice & Procedure for the Quantity Surveyor' 13th edition,(2013), Wiley- Blackwell
Ashworth and Higgs. 'Willis's Practice & Procedure for the Quantity Surveyor' 14th Edition (2023) Wiley-Blackwell
Academic Profiles
Go back to Academic Profiles