UCEM alumna takes home asset and facilities management prize at RICS Matrics awards
Posted on: 23 November, 2021
A UCEM alumna was 'delighted' after winning in her category at the RICS Matrics Young Surveyor of the Year Awards 2021 on Friday.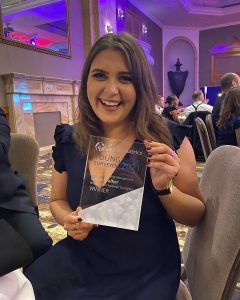 Laura Walker, who graduated from UCEM's BSc (Hons) Real Estate Management programme last year, took home the 'asset and facilities management' category prize.
On the awards webpage, the following description was given: 'An extremely driven young surveyor who has developed their career over several years and taken every opportunity that the profession has afforded them to learn, grow and deliver. Laura has outstanding client management skills, alongside her expertise and dedication to the profession.'
Laura – a senior property management surveyor at Bradley Hall Chartered Surveyors – commented: "It was an honour to have been nominated and shortlisted in the first place, but to win on the night was unbelievable. The whole experience was surreal and I'm delighted to have been recognised at a national level alongside some other incredibly talented surveyors."
The awards – in their eighth year – were held at Hilton Park Lane in London and recognise the achievements of young surveyors across the UK.
Reflecting on the event, Laura said: "It was a fantastic night. The event was really well organised.
"I was sat alongside three other north east nominees and our respective guests. I was lucky enough to have three of my close friends celebrate the achievement with me.
"It was amazing to also be alongside my fellow North East Matrics committee member, Javaad Khalil, who won in the 'quantity surveying' category. It was a very successful night for the north east to be bringing home two young surveyor awards!"
Assessing the impact of the award win, Laura added: "So far, it has already boosted my confidence and helped me realise just how far I have come in my career over the past 10 years.
"I hope more than anything that it inspires other young people to follow in my footsteps to learn, grow and support the next generation. I am keen to see more young people from all types of background step into the profession and pave their own futures in such a progressive industry."
Laura was one of 10 UCEM alumni, apprentice and student nominations at the awards. To read about the 10 UCEM-affiliated nominees, read our news story.