The CIOB re-accredits seven UCEM programmes
Posted on: 17 February, 2021
Seven UCEM programmes have been re-accredited by the Chartered Institute of Building (CIOB) after a successful accreditation event.
Following the desktop review and virtual visit, the Chartered Institute of Building (CIOB) re-accredited UCEM's BSc (Hons) and MSc programmes in Building Surveying, Construction Management and Quantity Surveying, and its MBA in Construction and Real Estate. UCEM's BSc (Hons) Building Control programme was accredited by the CIOB for the first time. All accreditations are valid until 31 December, 2025.
In the Accreditation Panel's final report, UCEM received no conditions, five commendations and two recommendations.
The five commendations were:
highly responsive to the student voice with clear feedback loop actions
very detailed and good quality feedback to students, both formative and summative
the VLE and supporting infrastructure clearly delivers a high-quality learning and student experience
the quality of both UCEM's internal review mechanism and the documentation for the reaccreditation event
the dedicated staff across all the institution – it was clearly evident from the panel meetings that this is a team effort.
The two recommendations were to 'maintain the high standards that you have established' and 'increase the involvement of the local CIOB'.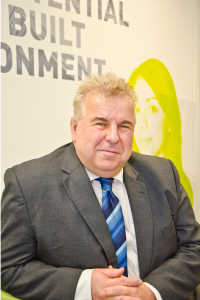 Tim Bennett, UCEM Dean of School (International), commented: "I am delighted at the success of the virtual re-accreditation event."
"It is essential that our programmes meet the criteria of the professional accrediting bodies. Our programmes are mapped to built environment professions and the accreditations signify that our students will be equipped for a successful career in the sector when they complete their studies with us."
"I was particularly pleased by the commendations given by the CIOB. The event emphasised the importance of our programmes in helping built environment professionals boost their career."
Laura Stirling, Accreditation Officer at the CIOB, said: "Congratulations on the success of your application and thank you for all your help with the careful planning of our first virtual accreditation visit."
UCEM holds CIOB Accredited Centre Status. Students completing UCEM's CIOB-accredited programmes will have full academic exemption and once they have gained three to five years' relevant work experience may enter CIOB membership as an applicant to progress towards chartered membership without the requirement for an individual assessment.