Built Environment Champions Recognised at 30th UCEM Property Awards
Posted on: 18 October, 2017
Outstanding achievements in the Built Environment were recognised in front of more than 100 guests at UCEM's 30th Property Awards event in London last Thursday.
GRESB co-founder, Dr Nils Kok, was the recipient of the main prize – the UCEM Property Award – which recognises an organisation's or individual's outstanding contribution to the property sector.
Nils was a co-founder and CEO of GRESB (Global Real Estate Sustainability Benchmark), which, since its launch in 2009, has grown to become a highly influential global ESG (environmental, social and governance) benchmark for the Built Environment.
Nils is now the Chief Economist at GeoPhy – a real estate data and analytics company that works with datasets to define quality, value and risk for every building.
Nils was unable to attend the event at Haberdashers' Hall due to commitments in the USA but BRE CEO, Dr Peter Bonfield OBE, who has worked with GRESB, accepted on Nils's behalf and read out his speech.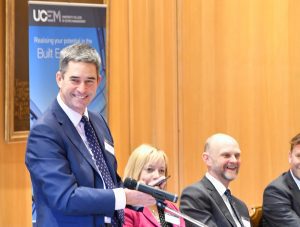 Dr Peter Bonfield OBE delivering the Property Award acceptance speech on behalf of Dr Nils Kok
Nils said: "I'm deeply grateful for receiving the award, and for the recognition that sustainability has become a core element of real estate investment decision-making.
"Of course, the GRESB team has been, and is, the machine that made it all work, so most of the honour definitely goes to them."
The Alumni of the Year award, which goes to a UCEM alumni member who has made an outstanding contribution in their early career towards a better Built Environment, went to Laura Collins.
Among Laura's achievements since graduating from the BSc (Hons) Quantity Surveying programme are: becoming one of the world's youngest Chartered Surveyors at 23; becoming Mace's youngest ever Associate Director; being awarded the Best Woman Quantity Surveyor at the Women in Construction and Engineering (WICE) Awards in 2016; and being awarded 'Trainee of the Year' soon after joining Davis Langdon.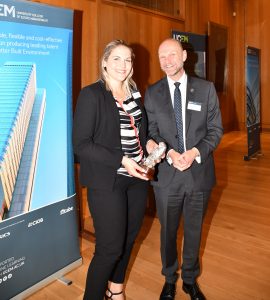 Alumni of the Year award winner Laura Collins accepts her prize from UCEM Principal, Ashley Wheaton
Laura, who is now a Project Director at Rider Levett Bucknall, said: "Winning the award was really unexpected. I have been really lucky to have had some great sponsors throughout my career who have helped me along the way and I'm over the moon to have won!"
The Academic Excellence award, presented to a student for the academic excellence and quality of a research or dissertation submission, went to Elias Crang.
Elias began his career in the Built Environment as a labourer before being promoted to Groundworks Foreman, leading a site team. Elias took on the MSc Quantity Surveying programme with UCEM and his project focused on the advantages and disadvantages of bathroom pods compared to traditionally built bathrooms in the student accommodation sector.
Elias interviewed a vast range of industry professionals and discovered a whole range of views on modern methods of construction (MMC).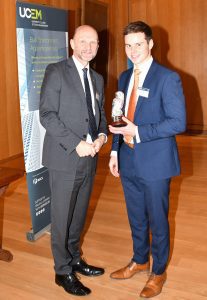 Academic Excellence award winner Elias Crang accepts his prize from UCEM Principal, Ashley Wheaton
Elias, who now works as an Assistant Quantity Surveyor for Kier and has just completed a new £30 million college campus in the South West, said: "I'm really flattered. Hopefully this can be a springboard to push on in my future career and I am really looking forward to seeing where I go in the future."
UCEM Principal, Ashley Wheaton, said: "I was delighted with how our 30th Property Awards event went and I was honoured to be in the presence of so many esteemed guests and supporters of UCEM.
"I believe the work we do at UCEM is of critical importance at a time when the Built Environment faces significant challenges in the shape of skills shortages and equipping the workforce with the skills needed for the sector to thrive in future.
"At UCEM, we are stepping up to meet these challenges head-on and with the support of the wider Built Environment community, whose achievements are deserving of events like today, we can prosper in an ever-changing landscape."