Ryan Lund – 2023 Winners
Posted on: 10 February, 2023
Chartered Surveyor Apprenticeship Programme Lead, Valuation Office Agency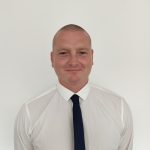 Ryan leads the Level 6 Chartered Surveyor Apprenticeship Programme at the Valuation Office (VOA), one of the largest employers of Chartered Surveyors in the UK, overseeing the progress of 200+ apprentices who are studying at UCEM.
Apprenticeships are highly valued at the VOA, to the extent that 7.6% of the entire headcount are currently enrolled in one.
Ryan explains that this not only gives the VOA its own pipeline of surveyors to meet future need but supports the organisation's ambitions to attract a much more diverse pool of talent to the surveying profession and facilitate social mobility. The VOA currently sits in the top 75 employers in the Social Mobility Index and is a Top 100 Apprenticeship Employer for the second year in a row.
Ryan is ideally equipped to support the VOA's apprentices on their journey, having actually studied the same modules at UCEM himself earlier in his career:
"I can't describe how much coming through the programme myself helps with this role. I understand academically what all of the students are doing, because I've done those (Level 3 and Level 6) modules. I can help them with the technical element, but on top of that, I know how the virtual learning environment works. I know how UCEM actually deliver their programmes. So, I feel as if I can give the individuals a bit more support because I've been in their shoes and I've done academic work that they do."
For Ryan, the key to a successful apprenticeship programme is making sure apprentices are fully supported. Not only does the organisation keep a close eye on apprentices' stress levels and overall wellbeing, it also provides line manager training so managers understand how best to support the apprentices as they work and study.
As for the VOA's relationship with UCEM, Ryan is keen to emphasise that although was awarded the Employer Representative award, "it's all about that partnership with UCEM, because you can't be a good representative of an organisation, if you don't get the support equally from UCEM. For me the relationship works so well at both ends because both stakeholders are willing to engage and work together".
He was nominated for the award by UCEM which "means a lot because the nomination recognises the work we've done together to create a better experience for the apprentices".
2023 Winners >