Senior Leader Master's Degree Apprenticeship
Programme Overview
The UCEM Senior Leader Master's Degree Apprenticeship is designed to develop individuals moving into a senior or strategic leadership role within the Built Environment sector. Specific job roles may include: Section Leader, Executive, Director, Chief Operating Officer, Chief Financial Officer, Chief Executive Officer, Chief Information Officer, senior military officer.
Through a combination of workplace and off-the-job-training the apprenticeship develops the knowledge, skills and behaviours to work as a professional senior leader, setting strategy, direction and vision and providing a clear sense of purpose and driving strategic intent.
The planned apprenticeship duration is 29 months.
Why complete this apprenticeship?
Achieve a recognised professional qualification (MCMI)
Earn while you learn
Get an accredited master's degree without paying tuition fees or incurring student debt
Great career potential including good earning potential
Programme outline
The key elements of the apprenticeship are:
UCEM MBA Construction and Real Estate (CMI, RICS and CIOB)
Development of a portfolio of evidence of knowledge, skills and behaviours and completion of a work-based project; and
Independent end-point assessment leading to Chartered Manager status.
The modules included in the BSc (Hons) and the structure which they follow is available below.
Module information and structure:
Yr
Autumn UK
1
Strategic Management of Change
Managing and Leading People
Management of Finance and Science
Principles of Marketing
2
Planning and Development
Postgraduate Project
Elective modules (choose one from):

Property Management or

Real Estate Investment

Elective modules (choose one from):

Manangement of Construction or

Procurement and Tendering
All modules are worth 20 credits, except the project module which is worth 40 credits.
Students can choose to start in either the spring or autumn semester.
Should you require further information about programme content please view the programme specification (open in new window), which sets out aims, intended learning outcomes and assessment methods.
To make sure our programmes are always high quality and relevant for our students we review and update our programmes on a regular cycle. This is known as "periodic review and revalidation" and this year this programme will be going through this process. Therefore, the programme information presented here may change. Information about any changes will be published in Spring 2020.
Development of the required knowledge, skills and behaviours is through a combination of workplace training provided by the employer and off-the job training provided by UCEM. The MBA degree is delivered by fully supported online learning. In addition, further off-the-job training is provided through four face-to-face senior leadership masterclass sessions per year.
The apprenticeship is assessed through on-programme and end-point assessment (open in PDF).
The end-point assessment methods will collectively assess the KSBs required of a Senior Leader, as set out in the Senior Leader Master's Degree Apprenticeship Standard.
UCEM has the right to revise and amend the programme in order to:
Comply with external professional, accrediting or other regulatory body requirements
Implement changes for the benefit of students as a consequence of evidence from programme monitoring
Ensure the curriculum is current and relevant to intended learning outcomes and/or standards of any relevant professional, accrediting and/or regulatory bodies and/or requirements of employers
Implement feedback and other recommendations from External Examiners
All changes to the programme will be implemented in consultation with relevant students and other stakeholders, setting out the reasons for the proposed amendment(s), and compliance with the requirements of the UCEM Code of Practice on Programme Monitoring, Amendment, Review and Discontinuation. Should such an eventuality occur during the admissions and registration process, applicants will be informed immediately of any change and the alternative arrangements that have been put in place. Existing students will be informed of when the changes will be effective from, which will usually be the next academic year (commencing the 1st September).
Entry Requirements
Applicants must have the right to work in England, meet Education and Skill Funding Agency residency status requirements, spend at least 50% of their working hours in England and be directly employed in a job role that will enable the requirements of the apprenticeship to be achieved.
In addition, for standard entry the following requirements apply:
A bachelor's degree with honours at lower second standard (2:2), or equivalent and three years' experience; or
A bachelor's degree, or equivalent, plus experience in a relevant field; or
A Level 5 qualification as defined by the Framework for Higher Education Qualifications for England, Wales and Northern Ireland (FHEQ) Level 5 plus five years' relevant work experience (two of which should be at appropriate senior management level); or
A professional qualification plus five years' relevant experience
and
Accepted current or prior equivalent maths and English qualifications at Level 2 (open in PDF) or evidence via initial and diagnostic assessment that the required maths and English skills at Level 2 exist
Applicants who do not meet the requirements stated above, but who wish to be considered for this programme should refer to the UCEM Code of Practice: Admissions and Recognition of Prior Learning (open in new window) for the policy on non-standard admission.
Applicants that do not have accepted current or prior equivalent Level 2 maths and English qualifications on entry will be required to achieve these as part of the apprenticeship. These qualifications will need to be fully-funded by the employer.
Testimonials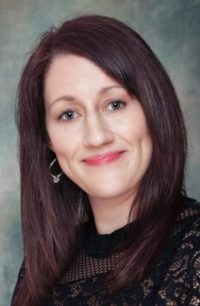 "I was a little apprehensive about online learning as I had never done it before but it's far easier than I expected. I find it beneficial attending the apprenticeship masterclasses (face to face workshops) to meet people who are also studying the same programme. The Virtual Learning Environment (VLE) is very structured and easy to navigate once you understand it. The tutors are so helpful and respond very quickly should you need any advice or guidance. They clearly want you to pass and succeed which makes a real difference. Studying for the apprenticeship is undoubtedly a big commitment. However, doing it with the support of your employer makes it much easier. I find that it's important to be organised and structure the time to work, study and spend time doing the things you enjoy as well.
I would like to progress into other roles within Property in the social housing sector when the time is right. Making a difference to the people that need us the most is important to me. Studying with UCEM has really helped to provide me with a much wider understanding of my own organisation. I now understand why I manage the way I do and how I can help people to be the best they can be!
There are lots of things that are good about studying an apprenticeship with UCEM, the structure, the support, the caring staff. The webinars are brilliant – I'd never done a webinar before I started with UCEM, they are interactive and really help to set the context for the work that week or the assignments.
I have had many interesting experiences in my career so far, but a highlight has been having a mentor in my organisation. He has really stretched, challenged and supported me which has made a monumental difference to my career. This has helped me to be the best I can and hopefully in turn allowed me to support my staff and our residents!
Overall, I think apprenticeships are an incredible way to learn!"
Lucy Gaitskell
Contract Manager (East), Sovereign Housing Association
Key information
Qualifications
If you successfully complete all elements of the programme, you will be awarded the MBA Construction and Real Estate from University College of Estate Management and will be entitled to use the designatory letters MBA. In addition, you will gain Chartered Membership of the Chartered Management Institute and will be entitled to use the designation 'CMgr MCMI'.
Application and start dates
2020/21:
Application deadline 17 August 2020
Programme start 28 September 2020
Please note: you will only be invited to apply once suitable employment conditions have been confirmed. For this to happen, your employer will need to provide advance employment information to UCEM.
Fees and costs
Apprentices do not pay course fees. All learning resources required are provided as part of programme.
If you are an employer then you will be able to use the Apprenticeship Levy to fund part/all of this apprenticeship pathway. See our Employing an Apprentice page (open in new window) for more information.
Workload and study requirements
An apprenticeship is a full-time job. Employers are required to release an apprentice from their normal paid working hours to undertake off-the-job training. Typically, this is an average of one day per week.
The MBA Construction and Real Estate element of the apprenticeship 15-20 hours of study a week for 42 weeks per annum – this means that in addition to the release time that your employer gives, you will need to study for several hours per week in your own time.
Each 20-credit MBA module equates to a total of 200 study hours broken down between directed online learning self-directed learning and assessment. The breakdown between these three types of activity may vary between modules but on average is as follows:
Directed online learning (50%)
Self-directed reading (17%)
Assessment (33%)
Directed online learning is the term used to describe a range of learning activities which you access via the UCEM Virtual Learning Environment, as this is more appropriate for an online learning programme than the term "contact hours". As a guide it includes, for example, participating in web classes and online discussion forums, watching video material and voice-over PowerPoint presentations and undertaking exercises and quizzes linked to programme materials. Self-directed learning includes reading textbooks and study papers to develop your knowledge of the subject matter. Assessment includes all activity related to the summative assessment of the module such as planning and writing coursework, revising for examinations and taking the exams themselves.
In addition to the MBA element of the programme you will be required to attend face-to-face masterclass sessions. Two masterclass sessions are delivered per day and there are four masterclass days per academic year. Masterclass sessions are typically scheduled to take place at a time to avoid a clash with other off-the-job study requirements.