Chartered Surveyor Quantity Surveying Pathway
Overview
Chartered surveyors act on behalf of clients or employers in a professional capacity. The typical main duties and tasks of chartered surveyors are to:
Provide professional advice and recommendations to clients relating to land, property or construction;
Manage client instructions from engagement to completion;
Liaise with other professionals;
Negotiate contracts and prices;
Analyse data relating to land, buildings or construction;
Follow due diligence in providing advice to clients;
Undertake detailed inspections of buildings, land or construction;
Analyse information from inspections or visits to buildings, land and construction sites.
The key elements of the apprenticeship are:
BSc (Hons) degree (RICS and CIOB accredited)
structured workplace training to develop the required skills, behaviours and competencies
Assessment of Professional Competence (APC) leading to RICS chartered membership and the MRICS professional qualification.
Development of the required knowledge, skills and behaviours is through a combination of workplace training provided by the employer and off-the job training provided by UCEM. The degree is delivered by fully supported online learning. In addition, further off-the-job training is provided through a series of face-to-face professional practice workshops.
The apprenticeship is assessed through on-programme and end-point assessment (open in PDF).
Why complete this apprenticeship?
Achieve a recognised professional qualification (MRICS)
Earn while you learn
Get an accredited degree without paying tuition fees or incurring student debt
Great career potential including good earning potential – £51,000 average MRICS qualified base salary (Source: 2019 RICS and Macdonald and Company UK Rewards and Attitudes Survey)
Occupation and Programme outline
This occupational route is Quantity Surveying and Construction. Quantity surveyors are the cost managers of construction. They are initially involved with the capital expenditure phase of a building or facility, which is the feasibility, design and construction phases, but they can also be involved with the extension, refurbishment, maintenance and demolition of a facility. They must understand all aspects of construction over the whole life of a building or facility. They must have the ability to manage cost effectively, equating quality and value with individual client needs.
The key elements of the apprenticeship are:
BSc (Hons) Quantity Surveying degree (RICS, CIOB and CABE accredited)
Structured workplace training to develop the required skills, behaviours and competencies
Assessment of Professional Competence (APC) following the Quantity Surveying and Construction pathway leading to RICS chartered membership and the MRICS professional qualification
The modules included in the BSc (Hons) and the structure which they follow is available below:
Yr
Autumn UK
Spring UK
1
People and Organisational Management

Legal Studies

Economics

Building, Environment, Technology and Simple Construction

2
Financial and Resource Management

Measurement and Quantification of Construction Work

Building, Environment, Technology and Framed Structures

Economics of Property and Construction

3
Contract Procedures

Estimating and Tendering of Construction Projects

Building, Environment, Technology and Complex Projects

Building Economics

4
Construction Law
Contemporary Quantity Surveying Practice
Commercial Management in Construction or

Commercial Property Management

Construction Project Management or

Maintencance Management or

International Construction

Project
All modules are worth 20 credits, except the project module which is worth 40 credits.
Students can choose to start in either semester.
Should you require further information about programme content please view the programme specification (open in new window), which sets out aims, intended learning outcomes and assessment methods.
Details of the APC requirements for this route are given in the RICS Quantity Surveying and Construction APC pathway guide (open in new window).
The planned apprenticeship duration is 57 months. The actual duration is determined by when the employer and UCEM deem the apprentice to be ready to undertake the APC.
Please note that from autumn 2020, UCEM will be making changes to its programme delivery as part of an ongoing commitment to provide an excellent student experience. If you enrol prior to autumn 2020, you will experience these changes. You can find more information about the Transform Project and how these changes will affect you on our Transform Project page (open in new window).
You should also be aware that as part of UCEM's rigorous quality assurance activities, the institution is required to revalidate its programmes regularly. Due to the work on this, there may be some changes to the programme information advertised. Information about any changes will be published in Spring 2020. Any changes will not affect programme accreditation or final awards.
UCEM has the right to revise and amend the programme in order to:
Comply with external professional, accrediting or other regulatory body requirements
Implement changes for the benefit of students as a consequence of evidence from programme monitoring
Ensure the curriculum is current and relevant to intended learning outcomes and/or standards of any relevant professional, accrediting and/or regulatory bodies and/or requirements of employers
Implement feedback and other recommendations from External Examiners
All changes to the programme will be implemented in consultation with relevant students and other stakeholders, setting out the reasons for the proposed amendment(s), and compliance with the requirements of the UCEM Code of Practice on Programme Monitoring, Amendment, Review and Discontinuation. Should such an eventuality occur during the admissions and registration process, applicants will be informed immediately of any change and the alternative arrangements that have been put in place. Existing students will be informed of when the changes will be effective from, which will usually be the next academic year (commencing the 1st September).
Entry Requirements
Applicants must have the right to work in England, meet Education and Skill Funding Agency residency status requirements, spend at least 50% of their working hours in England and be directly employed in a job role that will enable the requirements of the apprenticeship to be achieved.
In addition, for standard entry the following applies:
96 UCAS tariff points (2017 UCAS Tariff) or an equivalent level of attainment through recognised qualifications not included in the UCAS tariff
or
To have completed an Advanced Apprenticeship in Surveying or an Advanced Apprenticeship in Construction Technical through which a Construction and Built Environment Diploma with a minimum DD profile was obtained or through which a Construction and Built Environment Extended Diploma with a minimum MMM profile was obtained
or
An equivalent qualification
or
A current RICS Associate qualification
and
GCSE Grade C/4 or above in English and maths or accepted current or prior equivalent maths and English qualifications (open in PDF)
or
Evidence via initial and diagnostic assessment that maths and English skills at Level 2 exist
Applicants who do not meet the requirements stated above, but who wish to be considered for this programme should refer to the UCEM Code of Practice: Admissions and Recognition of Prior Learning (open in new window) for the policy on non-standard admission.
Applicants that do not have accepted current or prior equivalent Level 2 maths and English qualifications on entry will be required to achieve these as part of the apprenticeship. These qualifications will need to be fully-funded by the employer.
Testimonials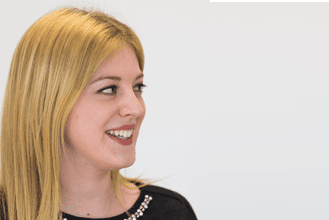 "I chose to enrol on the apprenticeship programme because it offers the chance to get a degree and get chartered in four-and-a-half years – even quicker than the 'traditional' route of going to university full-time then studying for the APC afterwards. Also, the flexibility of studying online really appealed to me as it meant I wasn't always out of the office on a certain day and can fit my studying around work and private life commitments.
The best thing about studying with UCEM is the flexibility. You can study when you want, where you want and how you want – be it at your desk at lunchtime, on the train to a meeting or even next to the pool on holiday (if you really have to!). Also, the student cohort is international which gives a great insight into the Built Environment in other countries through the discussion forums, adding a really valuable extra dimension to the study materials.
My studies have already led to me being nominated for 'Apprentice of the Year' at the RICS Matrics Young Surveyor of the Year Awards in 2018. I was so thankful to have been nominated and it has made me more excited for what's to come in my career."
Charlotte Hart
Trainee Quantity Surveyor, AECOM
Key information
Qualifications
If you successfully complete all elements of the programme, you will be awarded the BSc (hons) Quantity Surveying from University College of Estate Management and will be entitled to use the designatory letters BSc (Hons). In addition, you will gain the MRICS professional qualification and will be entitled to use the designation 'Chartered Quantity Surveyor'. Read our Undergraduate Assessment, Progression and Award regulations (open in new window).
Application and start dates
2020/21: Apply by 24 August 2020 to start 5 October 2020.
Please note: you will only be invited to apply once suitable employment conditions have been confirmed. For this to happen, your employer will need to provide advance employment information to UCEM.
Fees and costs
Apprentices do not pay course fees. All learning resources required are provided as part of programme.
If you are an employer then you will be able to use the Apprenticeship Levy to fund part/all of this apprenticeship pathway. See our Employing an Apprentice page (open in new window) for more information.
Workload and study requirements
An apprenticeship is a full-time job. Employers are required to release an apprentice from their normal paid working hours to undertake off-the-job training. Typically, this is an average of one day per week.
The BSc (Hons) Quantity Surveying element of the apprenticeship requires 15-20 hours of study a week for 42 weeks per annum – this means that in addition to the release time that your employer gives, you will need to study for several hours per week in your own time.
Each 20-credit BSc module equates to a total of 200 study hours broken down between directed online learning self-directed learning and assessment. The breakdown between these three types of activity may vary between modules but on average is as follows:
Directed online learning (50%)
Self-directed reading (17%)
Assessment (33%).
Directed online learning is the term used to describe a range of learning activities which you access via the UCEM Virtual Learning Environment, as this is more appropriate for an online learning programme than the term "contact hours". As a guide it includes, for example, participating in web classes and online discussion forums, watching video material and voice-over PowerPoint presentations and undertaking exercises and quizzes linked to programme materials. Self-directed learning includes reading textbooks and study papers to develop your knowledge of the subject matter. Assessment includes all activity related to the summative assessment of the module such as
planning and writing coursework, revising for examinations and taking the exams themselves.
In addition to the BSc (Hons) element of the programme you will be required to attend face-to-face workshop sessions. Two sessions are delivered per workshop day. Workshop sessions are typically scheduled to take place at a time to avoid a clash with other off-the-job study requirements.
During the structured workplace training phase of the apprenticeship you will need to regularly record your competency evidence using the RICS Assessment Resource Centre (ARC) portal (open in new window). You will also eventually apply and submit for APC via the ARC portal.