Overview
Built for you
The built environment encompasses all human-made surroundings across the world and is a diverse and exciting sector with a vibrant choice of careers, from construction, property, and land surveying to name a few. A career in the built environment comes with fantastic career prospects, the opportunity to learn a broad set of skills and the potential to work all over the world.
There are so many good reasons to take up study in the built environment, but you don't need to study a full degree to enhance your skillset and gain knowledge – you can specialise in one of our exciting courses.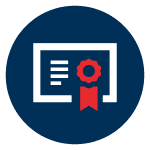 64 courses
in surveying, real estate and construction
Our courses
Built for every level
Whether you're just entering the built environment or you're a skilled practitioner looking to excel in your career, we have courses to suit you. Keep reading below to find out why our courses might be for you and discover all of the courses we offer from level 5 to level 7 study.
Level 5
Ideal for those with experience in the built environment
Construction Technology 3
Design and Environmental Science
Economics for the Built Environment
Design Economics and Cost Planning
Valuation - The Five Methods
Valuation – Context and Principles
Level 6
Ideal for more experienced practitioners
Integrated Design Project
Public Safety in Buildings
Building Surveying Practice
Construction Project Management
Professional Quantity Surveying Practice
Level 7
For experienced practitioners ready to study at a postgraduate level
Management of Construction
Sustainable and Innovative Construction
Management Finance and Science
Maintenance Management (Postgraduate)
Procurement and Tendering
Analysis and Adaptation of Buildings
Applied Valuation (Postgraduate)
5 reasons to upskill
Built for the future

You want to get ahead
You might want to develop your knowledge in a specific area to be more competitive in your career

You want to specialise
Perhaps you would like to focus on a specific area without committing to a full undergraduate or postgraduate degree

You have less time
Maybe you don't have the time for a full degree programme. You can still enhance your knowledge and skills without changing your lifestyle

You want to switch roles
You want to change your role at work, but you need knowledge and skills in a specific area to progress

You want to try before you commit
Or maybe you would like to see what it's like to study online and at an undergraduate or postgraduate level without studying a full degree programme