Welcome to UCEM
A message from our principal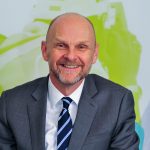 We are delighted you have decided to embark on this exciting journey with us. With more than 100 years of educating the built environment, UCEM has taught students like you through some extraordinary times, from the Second World War, to economic recessions and most recently a global pandemic. Throughout our rich history we have never once compromised on our core purpose to provide accessible, relevant, cost-effective education which enhances careers, increases professionalism and leads to a better built environment. I wish you the very best of luck with your studies and encourage you to reach out to one of our excellent support teams if you ever need any additional help to ensure you stay on track and continue to succeed.
Ashley Wheaton, Principal, University College of Estate Management
Programme of activities
Last semester, 100% of those who attended orientation sessions found that it was a useful thing for UCEM to provide.
In order to get your journey with us off to a great start, we've put together a programme of activities to introduce you to your key academic staff, help you build a network with your fellow students, signpost you to all the support we have available and give you insights into how to get the best out of your online learning experience.
Start your journey with us now!
To find your schedule of orientation activities, we need to know:
Are you an apprentice?