Winner – Erin from Waingels!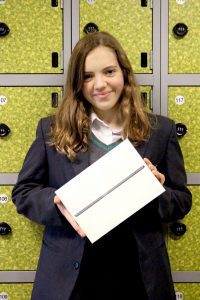 Congratulations, Erin from Waingels College, on winning the competition vote for your idea to transform Reading Prison into a boarding school! Here is Erin proudly holding her prize of an iPad.
Commenting on her victory, gained with 45% of the 9,234 votes, Erin said: "Thank you to everyone who voted for my idea; I really never expected to win. I am so grateful to have had this opportunity and I really hope that the developers transform the prison into something wonderful and accessible for everyone."
Erin's head of year, Paddy Pole, added: "As a school, we are very proud of Erin in winning the Reading Prison competition. We are so proud of the initiative she took to engage in such a fantastic competition and the creativity she showed with her idea of a boarding school."
Take a look at our article for the shortlisted entries. We were also really impressed by other entries which weren't shortlisted and a selection of these feature in our earlier article.
We would like to offer our congratulations to all of our shortlisted pupils for their brilliant ideas and participation in the competition.
If you haven't already, you can still listen to or read a transcript of the podcast.
MEET THE EXPERTS
Learn more about the experts who'll represent your ideas during the podcast, David Hourihan, James Ritson, Jan Wilcox, Natasha Collins.