SCHEME OVERVIEW
BUILT FOR DEVELOPMENT
UCEM is delighted to announce the launch of a new Board Apprentice Scheme. This scheme will give up to two alumni the opportunity to join the Board of Trustees for a one year term each year.
Gain insight of strategic, compliance and governance matters

Contribute to delivering UCEM's vision 'To be the Centre of Excellence for Built Environment Education'

Use your experience as a UCEM alumni to inform the board

Build your network within the built environment and higher education sectors

Receive mentoring from an experienced board member
RESPONSIBILITIES
What you'll get involved in
The board is responsible for the overall governance, monitoring and strategic direction of UCEM, working together with the Executive Team to ensure that the charity achieves the objectives defined in our Royal Charter and that we operate in compliance with all legal and regulatory requirements, including the Office for Students (OFS), the Charity Commission and Ofsted. In addition to this, the board contributes to ensuring that our institution meets the expectations of the Higher Education Code of Governance.
You will bring your experience as a previous student and your knowledge of the sector to directly contribute to the future of UCEM by attending 4-8 board meeting per year. These are held remotely at present, although they will be held at the UCEM Horizons office in Reading once the COVID-19 situation allows.
ELIGIBILITY
WHO CAN APPLY?
This scheme is open to all UCEM alumni, although we particularly welcome applications from BAME, LGBTQ+, disabled, lower socio-economic and care leaver candidates.
INTERESTED?
HOW TO APPLY
Please send your CV and a covering letter outlining why you'd like to apply for this scheme, what you would bring to the role and how you think it would help you develop to Lyndsay Hughes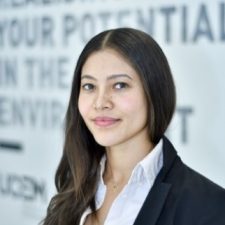 THE EXPERIENCE
WHAT'S IT LIKE TO SIT ON THE BOARD?
Phoebe Farrell, former student trustee and lead student representative.
The trustee role is the most prestigious position a UCEM student can achieve, with input given at board level where strategic decisions are determined. Phoebe Farrell, who studied on our BSc (Hons) Real Estate Management programme, became only the second UCEM student trustee and, as her term comes to an end, she reflects on both that role and the lead student representative position she held over the past few years in this Q&A…
Watch the discussion between Amanda and Kate on Diversity in the built environment