Responsible Futures
UCEM commitment to creating an environment where education for sustainable development can thrive:
Responsible Futures Skills Survey. This briefing note presents results from the National Union of Students (NUS) 2017 student survey which covered attitudes, experiences and expectations associated with sustainability at UCEM. Read the survey here.
NUS Responsible Futures Feedback Report. This outlines findings, successes and opportunities for enhancement. Read the report here.
Sustainable Skills Survey
As part of the reaccreditation process for 2020, we ran a Sustainability Skills Survey, in conjunction with NUS, for students and the below infographic provides a few of the highlights from it: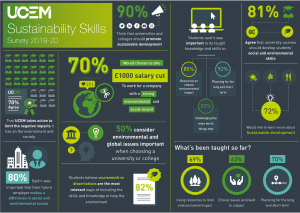 Learning Packages
A series of individual freely available CPD learning packages have been produced, available here via our Online Academy, which support and informs curricula on 'future skills' for sustainability within the construction, surveying and property industries, which include:
Horizons: A Sustainability Case Study. This provides an account of our relocation to the new UCEM premises in 2016, and showcases how an inefficient 1980s building in central Reading was converted into our sustainable new home (BREEAM 'Excellent').
Sustainable Urban Design. These courses, in partnership with the Prince's Foundation, explain why the need to develop sustainable communities has never been greater.  Land use, ecological factors, mass migration and many other sources of stress are affecting community life. These factors, combined with the need for job creation, mean that we have to find new ways to develop our urban environment.